Do you put your phone notifications on silent or on Do Not Disturb while listening to music? We can totally relate to it. Who responds to calls or messages during those few hours of unwinding? But unfortunately, Apple's headphone safety notification doesn't let you sit in peace, and can be a little annoying until you deal with it.
The feature sends notifications and lowers the sound by itself when listeners turn up the volume to a damaging level for a long time. While the feature is set for noise safety purposes, it sometimes gets too annoying and makes you want to turn it off. That is why we decided to do a small guide to help you learn how to turn off headphone safety feature on iPhone.
Should you Turn off Headphone Safety on iPhone?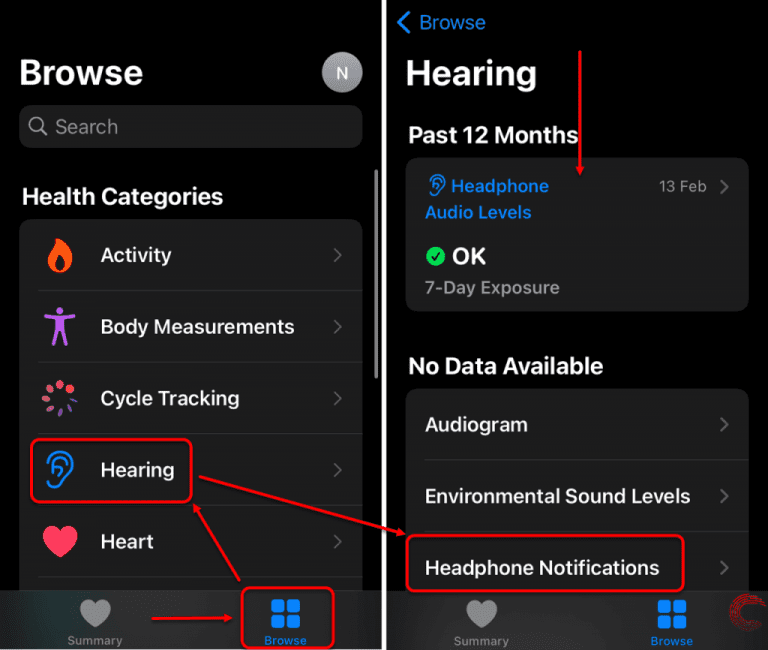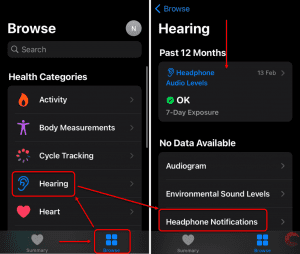 If you frequently listen to music at a loud volume and for long hours then we won't recommend you to turn off this headphone safety feature – the reason behind it is that listening to music at a damaging sound level can harm your hearing and in the worst cases completely damage it.
On the other hand, if you keep the feature on, it will automatically lower volume at your set level, which otherwise is set to 85 decibels by default.
Even after that, if you are bent on turning it off, follow through with the guide.
2 Methods – How to Turn off Headphone Safety on iPhone?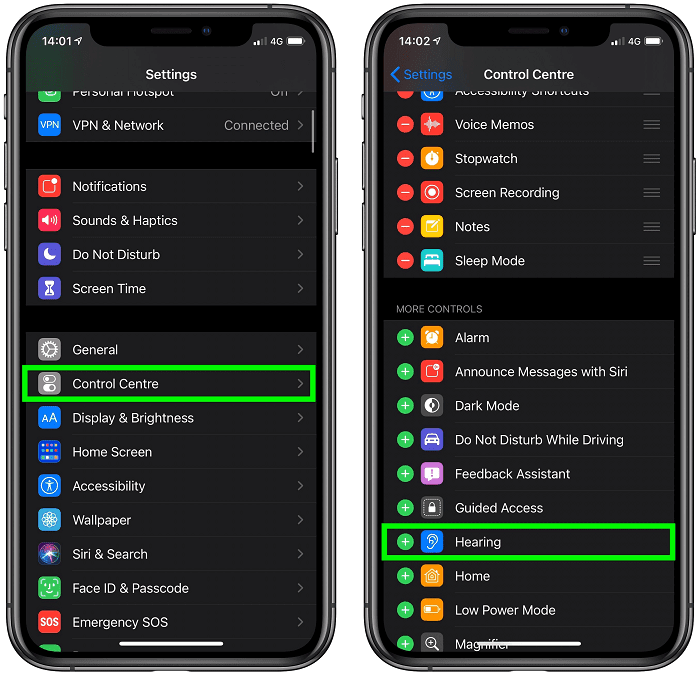 We have mentioned two ways to turn off this feature so you can choose whichever seems more convenient to you.
Method # 1
Go to the 'Settings' app
Tap 'Sounds & Haptics' below the 'Notifications' option
Now go to 'Headphone Safety'
Turn off both the options 'Headphone Notifications' and 'Reduce Loud Sounds' by tapping the toggle beside each of them
That is all you have to do if you go with the first one.
Method # 2
Head to the 'Settings' app
Scroll down a bit, find 'Accessibility' and tap on it
Navigate to the 'Hearing' section at the bottom of that page
Now tap 'Audio/Visual' here
Inside that, you will find an option 'Headphone Notification', turn its toggle off
Yes, that was all! You have turned off your iPhone's Headphone Safety feature using method 2.
Can you Turn off the Headphone Safety Feature on a Locked iPhone?
Unfortunately, only unlocked iPhones show the toggle for turning off the headphone safety feature. However, you can work around doing the same on your locked iPhone. Firstly, if you are out of the country, you can turn the feature off on reaching your home country back. Secondly, you can change the device type from 'Headphone' to any other. Doing so will stop the feature from lowering the volume and sending you notifications in between music or audio content.
How to Turn the Volume up without Disabling Headphone Safety on iPhone?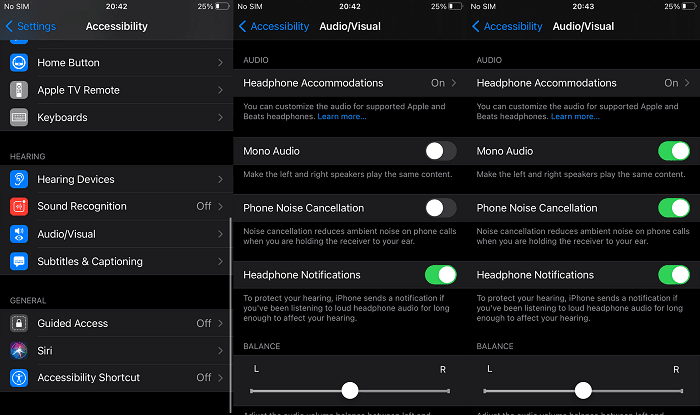 If you use external speakers to listen to music, you can prevent the headphone safety feature from turning the volume down in just a few steps.
Unlock your iPhone and head to 'Settings'
Tap 'Bluetooth'
Navigate to the Bluetooth device connected to your phone
Tap the (i) beside the name of your Bluetooth device
Now tap 'Device Type'
Select 'Speaker' from the given options
Doing so will allow you to listen to songs at a high volume without turning off the Headphone Safety feature on your iPhone.
How does the Headphone Safety Feature Work?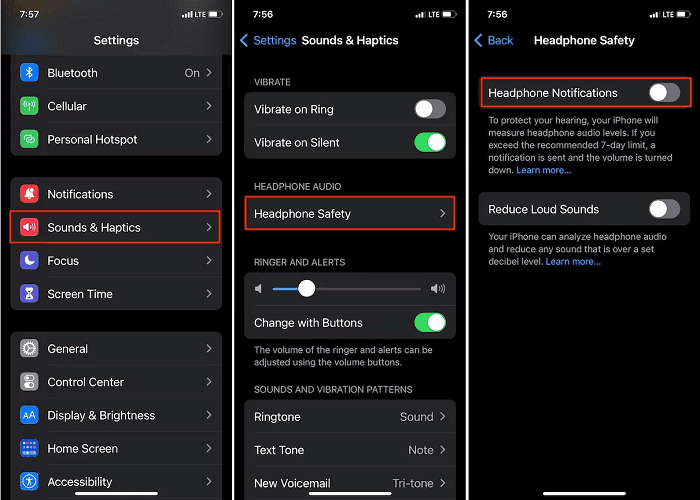 When you listen to songs at a high volume for consistent 7 days, the Headphone Safety feature of the iPhone will drop you a notification telling you to turn down the volume as you have reached the '7-day audio exposure limit'.
After that notification, whenever you connect your phone with headphones or speakers, the volume will be automatically turned down if it's exceeding the limit.
Note: The exposure limit is only applicable to audio. Video/Voice phone calls will continue working as they were before getting the notification. However, if your phone silences call while listening to music by itself, then that's another issue.
How to Prevent an iPhone from Silencing Incoming Calls?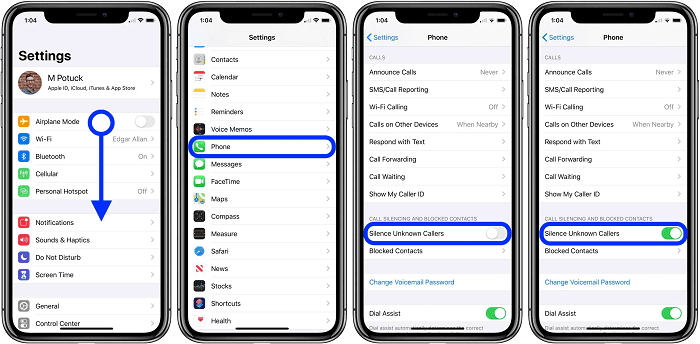 Often, people report that their incoming calls get diverted to voicemail even without them turning on the Do Not Disturb feature. If you are also facing the same issue, you can try a few things to figure out what might be wrong.
First, you need to make sure that your Call Forwarding and Silence Unknown Callers options are disabled. Here is how you can check them.
Open the Settings app
Scroll down and find Phone
Under 'Calls' find the Call Forwarding option and tap
Turn the toggle off if it's on
Now go back to Phone
In the next section, find Silence Unknown Callers and tap
Turn the toggle off
The Silence Unknown Callers feature automatically diverts unknown calls from telemarketers or scammers to voicemail. So if you think this feature might be useful to you, you should probably keep it on. In another case, turning it on might result in you missing important calls that your iPhone might automatically forward or silence on its own.
However, if that does not resolve your issue, you can do another thing to make sure you don't miss any calls.
Go to Settings once again
Scroll down a bit and tap Screen Time
Select Communication Limits and provide the password if it asks
Both the options, 'During Screen Time' and 'During Downtime' must be set to Everyone
When this feature is on, it sometimes blocks incoming calls 'During Downtime' and 'During Screen Time'. Therefore, you need to make sure that both the features are disabled so as not to miss a call.
Check your Do Not Disturb feature or your ringer volume if you continue facing the same issue after the above steps.
FAQs
How to turn off headphone safety on iPhone 13?
The process to turn off headphone safety on iPhone 13 is pretty much the same as on iPhone 12 and 11. You can check the above guide to turn the feature off on your iPhone 13.
Here are some recommendations for the best iPhone 13 cases for you in case you find them interesting.
How to turn off the Volume limit on headphones?
Go to the Settings app on your iPhone and navigate to the Music settings. Here, tap on Volume Limit and check if it is turned on. Tap the toggle to turn it off if it is on.
How to set Volume Limits on iPhone running iOS 13?
Just go to the Settings app and navigate the Music settings. Select it, and tap Volume Limit. Now you can set your volume limit from here.
How to fix low-volume issues on your AirPods?
A number of things can be inhibiting your Airpods from producing a louder sound. For starters, you can check if they are fully charged and that the low power mode of your phone is off.
If doing so doesn't resolve the issue, then head to Settings>Sound and Haptics. Under the 'Headphone Audio section,' you will find the Headphone Safety tap and find two options, Headphone Notifications and Reduce Loud Sounds. Turn the latter one-off if it is on.
Also, you can try resetting your AirPods, as it could resolve several other issues that might be affecting your AirPods' sound.
Conclusion
With our tough routine, we barely get time for ourselves and when we do, things like the headphone safety issues ruin our day by interrupting our soothing music. Therefore, to help you make the most of your free time, we have discussed the above-stated methods to resolve the headphone safety issue on your iPhone. If there are any confusion with the above steps, you can check this video tutorial for a visual guide for further clarification.