Earlier, we used to share stuff via screenshots, and never felt the need to have a better option for a long time. However, now with newer features and methods, the important stuff you want to preserve can be contained in video recordings. How can you share that when screenshots get too tiring and don't contain the whole picture? A small, even countable second video recorded of your screen can go a long way to solve this issue.
Well, iPhone's screen recording feature could help in this regard. To learn how to screen record on iPhone or any other iOS device, follow through this detailed guide. Of course, your iPhone must be updated with the latest iOS version to learn and carry out the process.
What is a Screen Recording feature on an iPhone?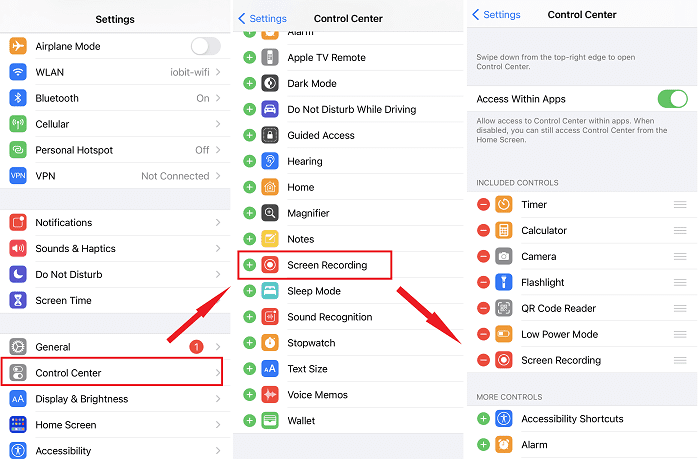 Screen recording, also called screen capturing, is a built-in feature in iPhones that enables the users to video record anything on the device or in the apps for their own convenience or share with family and friends. For instance, while using Facebook, if you come across a funny video and want to share it with your friend who is not on Facebook, how would you do that? That is when the screen recording feature comes to the rescue. It records the video with sound and allows you to save it on your phone. After which, you can share it with anyone on any platform.
The screen recording feature uses the iPhone's built-in microphone to record the video with its sound. Hence, you get an entirely new video with sound without using any third-party app.
2 Step Method – How to Screen Record on iPhone?
Now that we know the importance and usage of the screen recording feature, let's learn how to do it in detail.
Step 1 – Enable the feature
Head to the Settings app
Tap 'Control Center' below 'General'
Swipe down to check the 'More Control' options
Navigate 'Screen Recording'
Once found, tap the green-colored '+' on the left side to add it in 'Included Controls'
Step 2 – Locate the added feature
After adding the feature, come outside Settings by swiping up from the bottom of your screen (if you have older iPhones, press the middle button to return to the home screen.)
Now swipe down from the top and find a white-colored circle.
Found it? Tap on it, and a countdown will start, which means it is preparing to start a screen recording
When the circle turns red, that means the phone has started screen recording.
Once you are done, tap the same circle to stop the recording
Note: You can retrieve your video from the camera roll just like you do it when you screenshot something.
How to Screen Record on iPhone with ambient sound?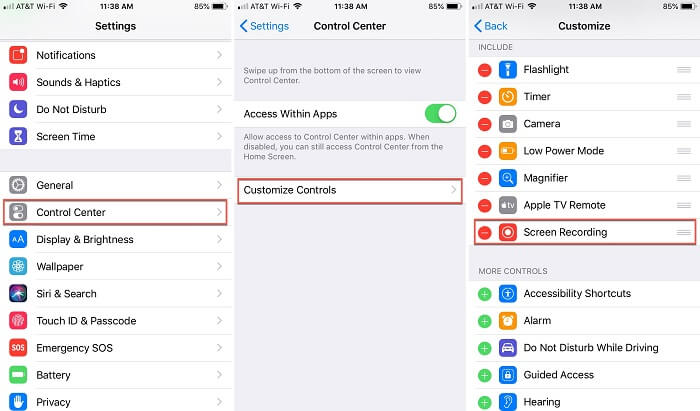 The previous method would only record the video sound. However, to record ambient sound during video recording, you will need to follow the steps below:
Open any video or tutorial you want to record.
Head to the Control Center inside the Settings app and add the video recording feature to your 'Included Controls'.
Once done, swipe down from the top right corner and long tap the white circle.
On tapping, you will find a microphone at the bottom and several options to store your recorded video.
Tap the microphone to turn it red.
Now go back to the white circle and start video recording.
This is how you can record videos with your own voice.
How to edit a Screen Recorded Video?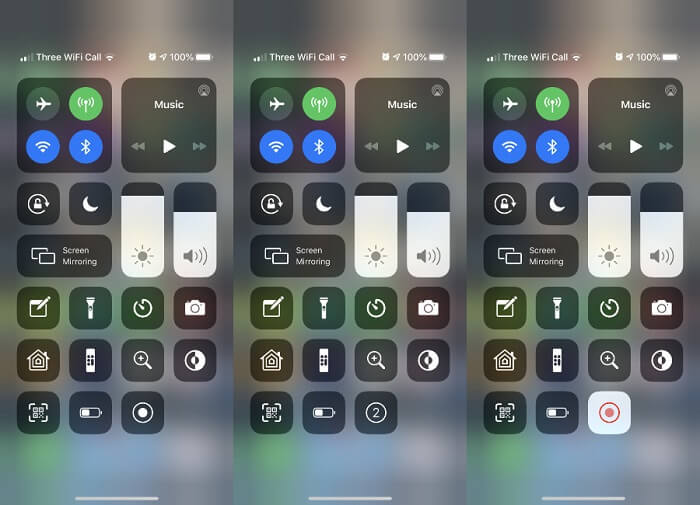 Blunders can happen while recording a video. Thereby it is important to learn how and from where you can edit your screen recordings on your phone.
Head to the camera roll where your video is saved and open the video.
At the top right corner, find the 'edit' option and tap on it.
A visual timeline of your recorded video will appear with arrows on both ends to edit. For instance, if you want to cut the beginning part, tap the arrow and drag it forward until the part you want to exclude.
Now resume the video to check if it has been edited right then tap 'Done' on the right bottom side of your screen.
The edited video will be saved as a new video.
Can you Screen Record Songs from Apple Music, Youtube, Amazon Prime and Spotify?
Apple Music
Unfortunately, Apple Music does not let you screen record its music. For instance, when you play a song on it and start video recording, the song will stop until you cancel or stop the video recording. So if you want to keep a song forever, you will have to pay a licensing fee.
Youtube
The screen recording feature won't disappoint you here because it lets you record videos with sound on youtube regardless of a premium or paid version. All you need to do is just open the Youtube app, play the song and start video recording, once the song finishes, stop the recording. This is how you can save the song on your device.
Amazon Prime
As for now, Amazon Prime allows users to screen record their content. However, it is unknown whether the act is legal or not. Most likely, the subscription-based platforms will charge licensing fees for recording their songs in the future, like Apple Music.
Spotify
While it is not legal to screen record songs on Spotify, certain third-party tools are specifically designed to record songs on such apps. Moreover, the premium version of it may allow you to screen record. However, we haven't personally tried doing that, so you should check for yourself.
iPhone and iPad models that can screen record
Here is the list of the iOS devices on which you can screen record videos. Just make sure they have iOS 11 or later otherwise they might not screen record.
iPhones
iPhone 5s
iPhone SE
iPhone 6 Plus
iPhone 6
iPhone 6s Plus
iPhone 6s
iPhone 7 Plus
iPhone 7
iPhone 8 Plus
iPhone 8
iPhone X
iPhone XS
iPhone XS Max
iPhone XR
iPhone 11
iPhone 11 Pro
iPhone 11 Pro Max
iPhone SE (2nd gen)
Tip: If you own an older model iPhone and are up for a change, check out our comparison guides on iPhone X vs iPhone XR, iPhone 12 Pro Max vs iPhone XS Max, and iPhone 13 Pro Max vs iPhone 12 Pro Max. It will help you decide which iPhone you should go for based on your needs.
iPads
9-inch iPad Pro (4th gen)
9-inch iPad Pro (3rd gen)
9-inch iPad Pro (2nd gen)
9-inch iPad Pro (1st gen)
iPad Pro 11' (2nd gen)
iPad Pro 11' (1st gen)
iPad Pro (10.5')
iPad Pro (9.7')
iPad Air 4
iPad Air 3
iPad Air 2
iPad Air
iPad (8th gen)
iPad (7th gen)
iPad (6th gen)
iPad (5th gen)
iPad mini 5
iPad mini 4
iPad mini 3
iPad mini 2
Conclusion
All the methods we have listed in this guide on 'How to screen record on iPhone' are reliable and worth trying. However, if you are still confused and need a video tutorial of the method, click here. It is a detailed video guide to learn screen recording techniques on an iPhone.