Is your iPhone filled with useless screenshots and old photos that you really don't care about? Well, that's the case with most of us, and why shouldn't it be? Taking a perfect shot is not easy. You have to take multiple shots to get a perfect one. On top of that, instead of deleting that extra stuff, we tend to stockpile it for years. Then, when we run out of space, we try to figure out how to delete all photos from iPhone.
Key Points
Head to the photos app, tap "Album", tap the "Select" option, now select one, and swipe up and across the screen to select the remaining.
To permanently delete photos, head to the "Recently deleted" album, select all you want to delete and finally tap "Delete all"
Since deleting all photos at once is downright overwhelming, thereby we tend to ignore this task. But what if we learn a way to delete all photos at once in just a few steps? There are possibilities of doing so.
How to delete all photos from the iPhone?
Below we have a few hacks to clean off your iPhone without wasting hours by swiping your fingers through the phone gallery to select pictures to delete.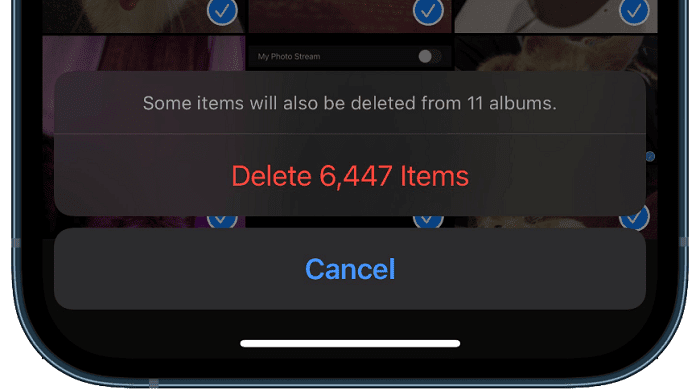 Method no 1 – Delete all at once
Follow these basic steps to delete photos from your iPhone in one fell swoop.
Tap on "Photos" on your iPhone
Tap on "Albums" – present at the bottom of your phone screen
Select "All Photos" – if you are not using iCloud for pictures backup, you might find "Recents" instead of "All Photos"
Now touch the "Select" tab present on the top right of your screen.
Gently select the last photo on that album, continue moving it upwards without lifting your finger off the screen. You will see pictures getting selected as it scrolls up. If you have too many photos, it will take you a while.
Once you reach the top of your screen to your first photo, you will find a trash box option in the lower right corner of your screen and delete all the selected photos at once.
It will ask you again by showing an option "Delete all xx" photos. If you are sure, then tap that option. In just a matter of a few seconds, your phone will be cleaned at once.
How to permanently delete all
The photos you have just deleted by using the above-stated process are not permanently deleted. Though, they have moved to the recently deleted album. If you do not need space immediately, you can keep them in there. The iPhone will permanently delete them after 30 days. However, to reclaim space instantly, go to the "Recently Deleted" album and on the right below, select "Delete all". Your photos will be permanently deleted from your iPhone.
Steps:
Go back to the "Albums" to find the "Recently deleted" album.
Scroll down, and open the "Recently deleted" album
Touch the "Select" option
Tap "Delete all"
The phone will ask you if you want to permanently delete the "xxx" number of images. Tap that option to get rid of all the unwanted stuff permanently.
Note: At this step, you have the last option to recover your photos back (if you accidentally deleted some), if not, then select the deleted option.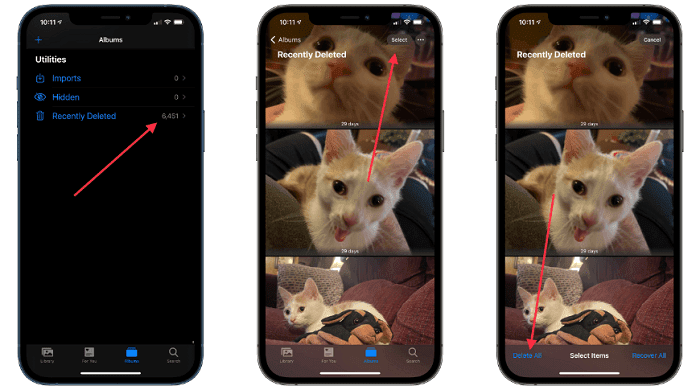 How to delete photos from a particular folder, of a person or file?
When you don't feel like deleting all your photos, you can delete some of your choices and keep the rest. On the contrary, if you just broke up, you can delete the pictures of that specific person using the iPhone's advanced AI feature. This feature highlights the repeated faces. Using this feature, you can delete pictures of all those you want to forget forever.
.Steps:
Head to the "Photos" app on your iPhone
On the right below, tap the search option.
When you tap it, you will find a series of repeated headshots (it includes faces that are present in two or more pictures on your iPhone)
Select the face you want to delete from your iPhone
After that, you will see all the pictures you have with that person. Select the option "See All."
Select all the photos you want to delete by using the similar swipe method.
You can do a similar thing with pictures of places. For instance, if you want to erase the memory of a specific location, you can do so with this feature. (Note: only those pictures will appear that were geotagged)
Steps:
Tap "Search"
Then tap any of the auto-generated locations
Choose the option "See All."
Finally, select images you want to delete
How to recover deleted photos?
After deleting unnecessary stuff, when you realize you have deleted some important pictures or videos with it, this hack will help you there. You can make use of iCloud and can preserve your photos. Even though it will not be in your photo gallery, you can access it anytime you want.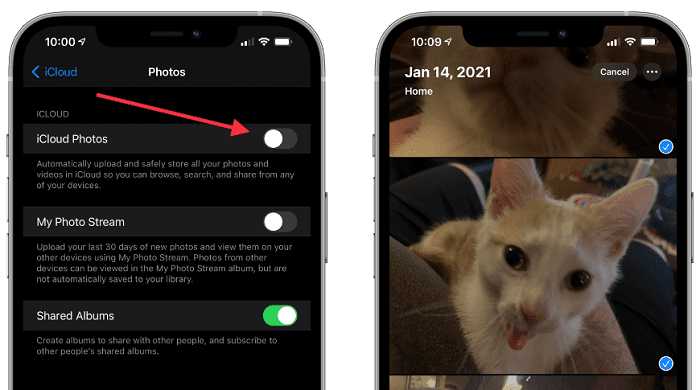 One Drive, Dropbox, and Google photos provide you with an option to preserve your data by creating a backup in the background. To do this, you need to install the iCloud storage application and automatically configure it to save your photos.
Pros of doing so
You can access your photos anytime, and on any browser you want. All you need to do is just log in to the cloud app in which you have saved your photos and access them from anywhere.
You have an auto backup for your photos.
It will save your iPhone storage. You can even delete all your photos from the gallery and shift to the cloud and access them when needed.
All in all, these were some of the hacks through which you can easily delete all the photos from your iPhone. If you know any other hack, feel free to share it in the comment section.